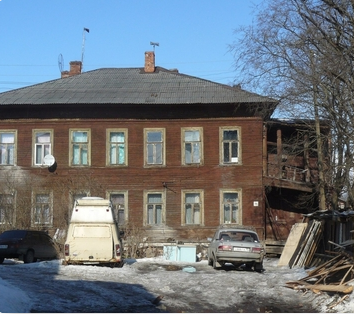 Dear friends, this is your chance to save one of the wooden houses in Vologda!
As it does not have any decorative carving, it cannot be treated as a listed building, yet there is a possibility to include it into the historical buildings! And for a good reason: since 3rd April till 21st July,1921, the house had been a place of exiled An old Russian house where Great Duke Nikolai Mikhailovich Romanov lived, the most radical anti-monarchist of all the family, a historian and an author of some fundamental books on the Napoleon and Alexander I period.
Exiled Great Duke supported active contacts with foreign diplomats who were sent there during the Civil War. Joseph Noulens, the then Ambassador of France, and Count Louis de Robien, the Secretary of Embassy, frequently visited Nikolai Mikhailovich there and left detailed descriptions of the house interior, valuable for its saving as a historical building. The British had approached The Romanovs and offered them false passports to run away, but the royals declined the proposal…
And now the house is absolutely desolated.
Only 586 signatures sent to the Cultural and Cultural Heritage Protection Department of the Vologda Oblast Government can save the life of this house. Just join us!
Signatures are accepted here!
Эта запись также доступна на: Russian