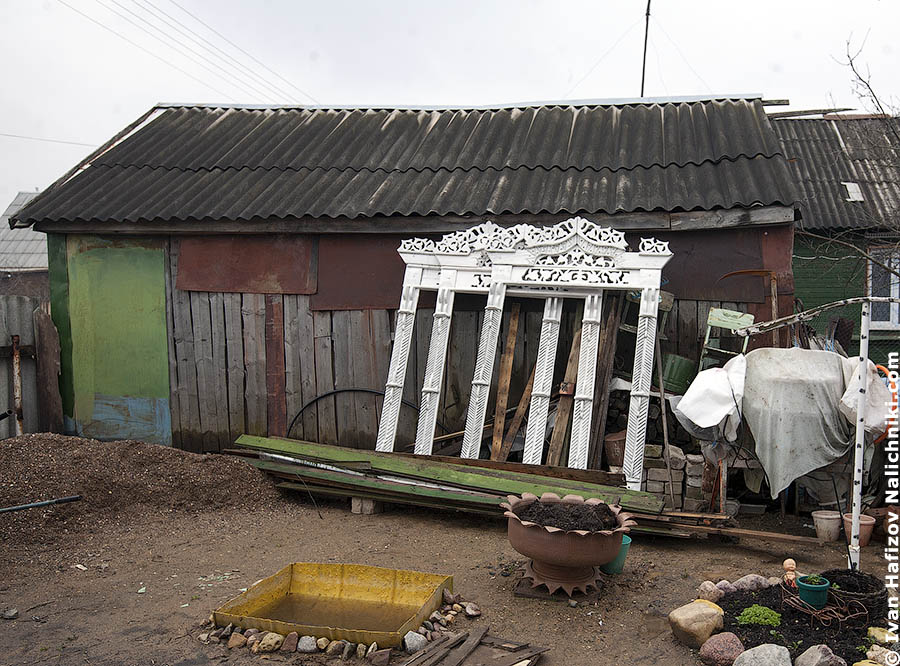 …
– Young man, can I help you?
I am in GAVRILOV Yam, skipping at a fence and holding my camera with an extended hand, in a hope of photographing window frames put against the garage wall. I turn my head and see a woman with a chopper in her hand; she went out of the gate and for several seconds has been curiously watching me.
-Oh, yes! – I reply – Can I take photo of your window frames? Those removed ones?
-Window frames? But why?
-For a photo exhibition, and just to remember
-To remember…It's good. Yes, go ahead, – she says about to shut her gate.
-Can I shoot in your yard? – I ask, without much hope, though
-Oh,you are welcome. Do come in!
I am coming in. Beds, swing, firewood,as everywhere. I take a couple of pictures and ask about the age of window frames.
-These ones are not old. The master carved them, just about 40-50 years ago.
I take one more pictures and is going to leave when she adds:
-By the way, their story is not very usual. The master carved them with his one hand only.  One of his hands was paralyzed, he could not work, and it was then when he was carving these frames…
Эта запись также доступна на: Russian